Soon after starting to do woodworking more sophisticated than pine bookshelves, I started making boxes mostly as presents for friends. Below I have posted some photos and short descriptions of some of them.

Early Boxes
This box is one of the first boxes I made. It gave me a chance to experiment with dovetails, and using handplanes to raise a panel (after a fashion). The lid surrounds a piece of glass that is meant to allow displaying lace behind it.
This box is one I made not too long after the first. It is of cherry with ebony detailing and inlays. I played around with laminating the pins of the dovetails with ebony so as to accent them. The finish is tung oil and wax.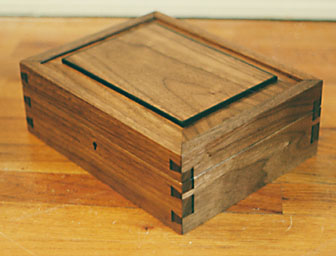 A dovetailed box of walnut and ebony.
A Box For Jenny
Another box of walnut and ebony, though here the walnut is nicely curly. This box is probably my favorite, not because of the workmanship, but because of the wood. I was in a hurry to complete this in time for Christmas, so I used mitered corners rather than dovetails, adding ebony accent strips for decoration. The finish is tung oil, rubbed into the wood with fine wet or dry sandpaper for the first several coats. Then more with a soft cloth, and finally wax. This brings out the figure of the wood while filling the pores with sanding dust.
Later Boxes
This is another box, made using the same techniques as the walnut box above. I finished it pretty recently. The main wood used is curly cherry which I thought had some nice figure. The splines are ebony slices.
A Pure Handtool Experiment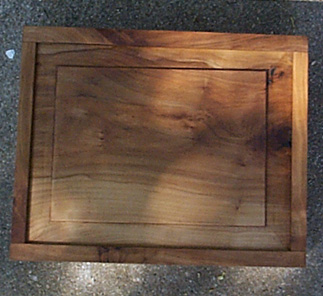 This box was somewhat of a challenge because I decided I would use no power tools to complete it. It is made of some apple I had the good fortune to purchase several years back. The tree had been sliced into 5/4 inch slabs and I did all of the thicknessing of the wood using hand planes. Since the grain is rather wild with some knots this took a long time for me to finish. Then I raised the panel in the lid using a couple of old panel raisers, and cut some dovetails with a dovetail saw. This last step went less well than it usually does because I tried to make the box without being as careful as I sometimes am to get everything uniform. If you measure old dovetails you will sometimes find that the skilled craftspeople who made them measured by eye and yet you don't see it except in very subtle ways. I erred a bit on the sloppy side, however, and had some trouble marking the pins from the tails since the sides were not of uniform thickness. Still with a bit of patching it looks alright. After gluing it up, I cut it open with a handsaw filed rip, and planed the edges smooth. Tung oil and wax finish the box.
And More Boxes Yet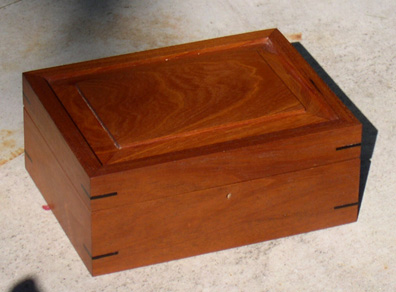 This is another box I made recently out of cherry with ebony trim.
This is a box I made for storing crochet needles. It has a sliding lid of ebony on a cherry box with cherry details.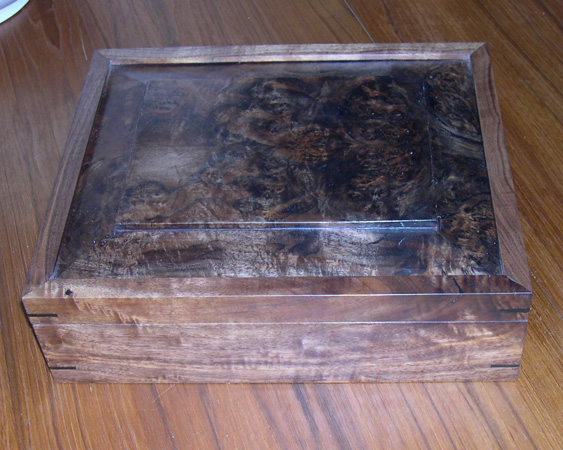 Another wedding box with a bookmatched claro walnut lid, black walnut sides, and ebony trim. The claro on the lid was wild enough that blackened epoxy was used to fill holes in the wood.
More claro walnut with no need to bookmatch, but resawn to get enough wood for the project. The front is actually from a different piece of wild figured wood, but it is a very nice piece of wood even if not quite the same as the rest. Used an old lock from an auction lot obtained a few years back to make it lock nicely, and Brusso hinges of good quality as well. I like the proportions on this one, as well as the wood. And it kept absorbing tung oil as I finished it so it got about seven coats before it was done.
Fly Tying Box
I made this box from a bunch of gnarly walnut for a fund-raising auction for my local Trout Unlimited Chapter. It is an adaptation of a plan by a guy whose work can be found at http://lumberjocks.com/projects/25605. I modified his plan a good bit, using magnets rather than hinges to hold it together and adding the spool storage area under the lid, and an adapted collet for holding the vise stem. But I would not have come up with this version without seeing that one.
Of course having put what seems like a hundred hours or so into it (filling the voids in the wood with dyed epoxy probably took a good part of that) I wound up bidding on it and won it. So then I got into tying flies to justify the expense and I've gone down a rabbit hole!
I'll be making something similar for our next TU auction come February or March, but with lighter wood for the inner lid so as to better show up flies when people are tying. Fly tyers are picky.
Not Exactly A Box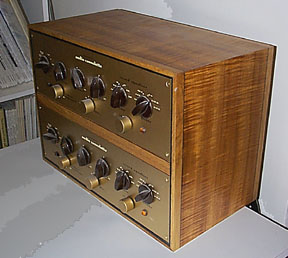 This box is actually a cabinet for an old set of mono preamps I got many years ago. The box itself is made of plywood, veneered with curly koa veneer and detailed with ebony and ebonized maple. Since I had not worked with veneered plywood before I got some help from my friend Rich Christie who is a far better woodworker than I am.