This page and the next several reproduce a section of an old Goodell Pratt Tool Company Catalogue related to hand operated breast drills.

The Goodell Pratt Company was relatively large manufacturer of woodworking and metalworking tools in the late 19th and early 20th centuries. It was established in 1888, and incorperated in 1895. Originally located in Shelburne Falls Massachusetts, the company soon moved to Greenfield Massachusetts some ten miles away.

Many of the company's most popular products were drills, including pushdrills, handcrank drills, and larger breast drills. Thus, it was in direct competition with the Millers Falls Company of Millers Falls (ten miles from Greenfield) which also made many of those tools. In 1931 the Goodell Pratt Company was purchased by the Millers Falls Company, and many of its products were continued as part of the Millers Falls line. For a nice web page on that company visit Randy Roeder's Millers Falls Homepage.

The images displayed here are from an old catalogue, that I found in a used bookstore. Since the catalogue bears no copyright date, I can't say exactly when it was produced, though it appears to be from 1926. Since the images can load slowly I have broken the relevant sections up onto three linked web pages.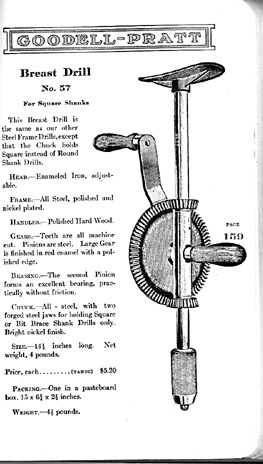 Page 159.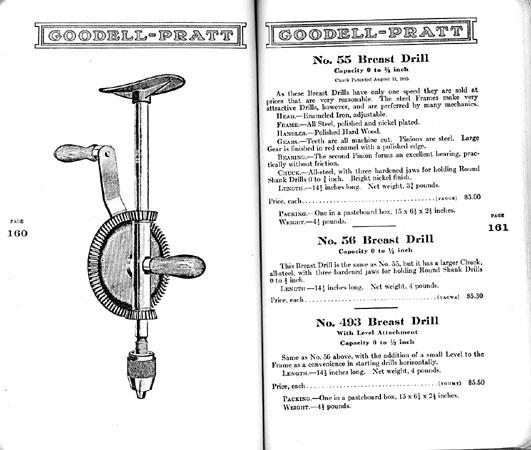 Pages 160-161.
Pages 162-163.
Pages 164-165.
Click Here For The Next Several Goodell Pratt Catalogue Pages Listing Breast Drills.
The images on this page and those that follow are reproduced for non-profit educational use only. Any trademarks remain property of the owners and are protected by law.