This page continues the story of the construction of a timberframe cabin in the Sierra Madre Mountains along with subsequent cabin adventures. This particular page covers 2012. You can access the previous pages through the index of my timberframe cabin pages at www.mvr1.com/timberframeing/timberframecabin.html and through the links on the sidebar. I last worked on this particular page at the following date and time:
These particular photos are from our return trip in early June after a weekend visit. They are of the Ames Monument between Cheyenne and Laramie. The smoke on the horizon is from the Haystack Fire outside of Fort Collins, Colorado.
On the way to the cabin we stopped and lingered in the Snowies, which were already well thawed for this time of year.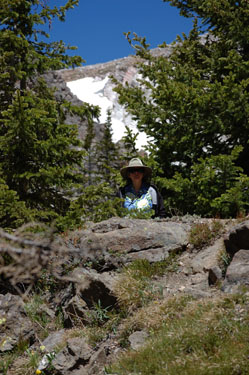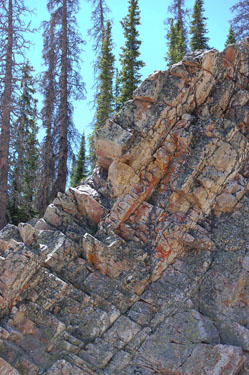 First Visit.
The 2011-2012 academic year was overwhelming for various reasons and we did not get up to the cabin during the Winter or Spring. The snow monitor and various other sources let us know that there was less snow than in normal years, let alone record years like 2010, and 2011. I believe that the depth at the monitor never reached 8 feet, compared with the near 14 foot maxima of the previous year. So we were not too worried about whether the chimney survived. But we were very worried about the electrical system which was not quite fully charged when I was up there in October, and that after running generators many hours to charge it to where it wound up when I left. As you can see, we were right about the chimney
The batteries seemed fully charged when we arrived. We came in after the sun was on the panels for the most part, so the steady state voltage of 12.8 volts wasn't so bad. They did dip down a bit in the evening to around 12.2 volts, but they recharged well enough the next day. I'm starting to think that the charge controller waits a bit too long to kick back in if they have a full voltage -- I'd be happier if it would charge them when the voltage was below 13 volts rather than not charging them if the sun is out and the batteries are at least 12.5 volts or so. But anyway, aside from adding distilled water and running the desulfation cycle and monitoring them, I wound up doing very little with them
Instead we spent the work time planting more aspens (72 in all), working on the water supply because I wanted to clean the tank and wound up breaking off a valve handle, and raking around the cabin to keep flameable litter away as this is a very dry year already as lots of fires already burning attest. Apparently there was one after we left some 30 or so miles down Battle Highway near Baggs from where we turn off. It was called the Willow Fire and was apparently already out by the time we heard about it. Still, I'm glad we did some raking.
So here's an aspen planting:
It did get cold enough to freeze one of the nights there.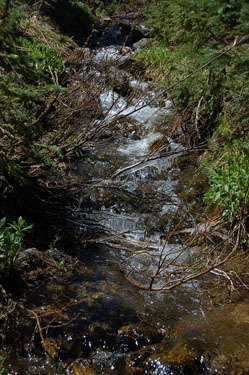 And I did get to fish a bit on Big Creek one afternoon. I caught a few nice but not huge brown trout, one of which you see before I released it, along with some shots of fish that hung around after they were released.
Fire at Woods Landing (as of July 1 2012)
Woods landing is about 30 miles west of Laramie on Highway 230 which is the southern route around the Snowie Range, usually open in Winter. Apparently they discovered a fire there yesterday (June 30, 2012. The fire is 3-4 miles West-Northwest of Woods Landing, and it covers about 500 acres (make that 2,000 acres at 10:20 PM CDT July 1st) and is and growing. They've dubbed it the Squirrel Creek Fire. Driving that's about 65 miles away; as the crow flies . . .
update:
The fire has now (July 2nd) reached 7,000 acres. They've evacuated Jelm, Woods Landing, and parts of Sheep Mountain. Highway 230 is closed. They're going to elevate the fire's status with a National Incident Management team taking over Tuesday morning. They say it is now a Type II incident. I think it is far enough away that we don't have to worry about this fire reaching us. But it does indicate the kind of conditions we are in since this fire is in beetle killed forest among other things.
We drove by it on the north side as we headed over the snowies. This is what it looked like from a good distance away.
July 5 update:
Apparently they got some rain on the fire last night and were able to get it 50% contained. It looks like they're still worried about movement towards the Northwest, but that they are feeling confident enough to release some crews to other fires. Yesterday this was still high enough in priority that they were bringing additional people in and calling it the number 3 priority fire in the country. Thunderstorms are predicted for today and tonight and they seem to like that on balance for the moisture such storms bring, even though the winds can cause trouble. The radio said that Highway 230 is open once again which makes me think they've got the south side relatively well under control. You can click on the map above for the website for the control efforts.
July 8 update:
There was some rain last night and the fire website (link at map above)says the fire is now at around 11,000 acres and 75% contained. The rainstorms did add to the winds at points and they say the fire is still growing to the West/Northwest. That's towards us, but it is far enough away that I'm not worried about this particular fire. We did do a bunch of raking around the cabin, trimming low growing seedlings, and moving wood piles further from the cabin itself. We also put a water line under the road to the nearby stream that runs in the ditch to fill our utility water tank. If a fire were to happen one could now open the fill valve and use the system to siphon water directly from the stream rather than having to refill the tank.
Because of complications with Jenny's new job (like whether there really was one) we headed home early rather than run to town at hourly intervals to check email.
And on the way home when the fire was mostly controlled we drove by the southern boundary of the fire which was mostly delineated by Highway 230, though it did jump at one point and burn some trees between the road and the Laramie River. We took these views of the charred area north of the road.
Links To My Other Cabin Pages
Back to Index of the Timberframe Cabin pages.
Back to first Timberframe Cabin page (April-August 2006).
Back to Second Timberframe Cabin page (September - December 2006).
Back to third Timberframe Cabin page (January - May 2007).
Back to the fourth Timberframe Cabin page (Summer 2007).
Back to the fifth Timberframe Cabin page (Fall 2007).
Back to the sixth Timberframe Cabin page (Winter/Spring 2008).
Back to the seventh Timberframe Cabin page (Summer 2008).
Back to eighth Timberframe Cabin page (Fall/Winter - 2008-2009).
Back to ninth Timberframe Cabin page (Spring/Summer 2009).
Back to tenth Timberframe Cabin page (Fall/Winter 2009/2010).
Back to eleventh Timberframe Cabin page (Spring/Summer 2010).
Back to twelfth Timberframe Cabin page (Spring/Summer 2011).
On to the Forteenth Timberframe Cabin page (2013).
To the Fifteenth Timberframe Cabin page (2014).
To the Sixteenth Timberframe Cabin page (2015).